There is a lot of misinformation about calorie intake, calorie counting, and body weight. In this article, Rebecca Toutant breaks down the basics of calorie needs for students. Nutrition is a key component of overall health, so let's make sure people have the basic information about calorie needs to make informed decisions.
Understanding Calorie Needs
Calories are the energy that our body needs to survive. In our article on the energy and chemistry of calories, we looked at the chemistry behind calories, and talked generally about how many we need to survive. Yet everywhere we look, we see calorie counts, calorie calculators, and suggested food amounts. 
Instead of looking at our calorie count and total calorie intake as a magical number, if we continue to look at calories as energy, then we can start to figure out just how much fuel or energy we need on a given day.
How To Gauge Calorie Needs & Intake
If you are concerned about eating too much or too little, it's best to talk with a registered dietitian to create a personalized plan based on your unique calorie needs. We do not universally recommend tracking food (or calories) in an app, website, or journal, because the practice can cause harm if not done with care, and a thorough understanding of its role in guiding nutrition goals. 
Instead, especially for high school students, it's more valuable to pay attention to signs from your body that you're giving it enough fuel.
 Signs you're not eating enough energy:
Low energy / fatigue

Difficulty concentrating

Bloating and/or constipation

Tired

Stalled training

Missed menstrual cycles

Constantly thinking about food

Irritability

Hair loss / brittle nails

Constantly getting sick
Weight and body composition are not great indicators of whether you're over or under fueling. Growing bodies are designed to change. People gain weight to grow taller, increase bone density and length, develop muscles and organs, etc. 
And the body shape changes as hormones dictate what's necessary for life. Restricting energy in an attempt of weight loss or to control weight can get in the way of growth and development. 
Finally, under fueling sacrifices athletic performance, exercise, and physical activity – limited fuel leads to poor training, resulting in minimized strength and endurance gains.
Hunger Signals 
One tool to help gauge energy and calorie needs is your body's hunger signals.
When the body begins to run low on fuel, it sends signals to the body that increase interest in food. Those signals make you think more about food, and notice clues of food around you, such as the smell of a bakery or an advertisement on social media.
Your stomach may feel a little empty, and the thought of food is appealing. As hunger grows, so does the intensity of the symptoms. The stomach growls louder and often gets upset. We have difficulty concentrating, feel irritable, dizzy, or light headed and may develop a headache.
 When we wait until we're ravenous, we are more impulsive around food, and tend to eat quickly. We eat anything and everything. We are particularly driven towards foods that give us energy, quickly, and in large amounts.
When we are in this state, we are more likely to eat beyond our energy needs and until we're uncomfortably full. This is a natural and normal reaction to going too long without food because our body is "making up" for lost time.
Hunger To Fullness Scale
The hunger to fullness scale is one tool to help explore our energy and calorie needs. Again, you will notice with this scale that there is no form of counting calories. Because depending on the day and time, our physical activity levels and other factors will impact our overall hunger.
It is important that people listen to their bodies, rather than obsessing over rigid daily calorie intake and daily calorie needs. While this important for people, it is especially important for students and growing bodies.
Listening To Our Bodies 
Eating is a biological need, just like breathing. You can hold your breath as long as you'd like, but the longer you try, the greater the gasp you're going to take when your body can't stand the oxygen deprivation anymore. The longer we wait to eat, the 'gasp' we take comes in trying to consume too much food.
The "right" time to eat is when we are just beginning to feel the desire for food. It's the "I could eat" point of hunger. In this place, we can be thoughtful about what we want to eat and what our bodies need. We are more likely to enjoy the experience and feel more satisfied.
Have you ever felt full, but not satisfied? Like you were "stuffed" from eating the foods you were "supposed" to have, but still wanted to have "the treat?"
Consistently eating "enough" energy is the first step to fueling the body. However, the chemistry of the food makes a big difference in your hourly energy levels, as well as the enjoyment of the food experience itself.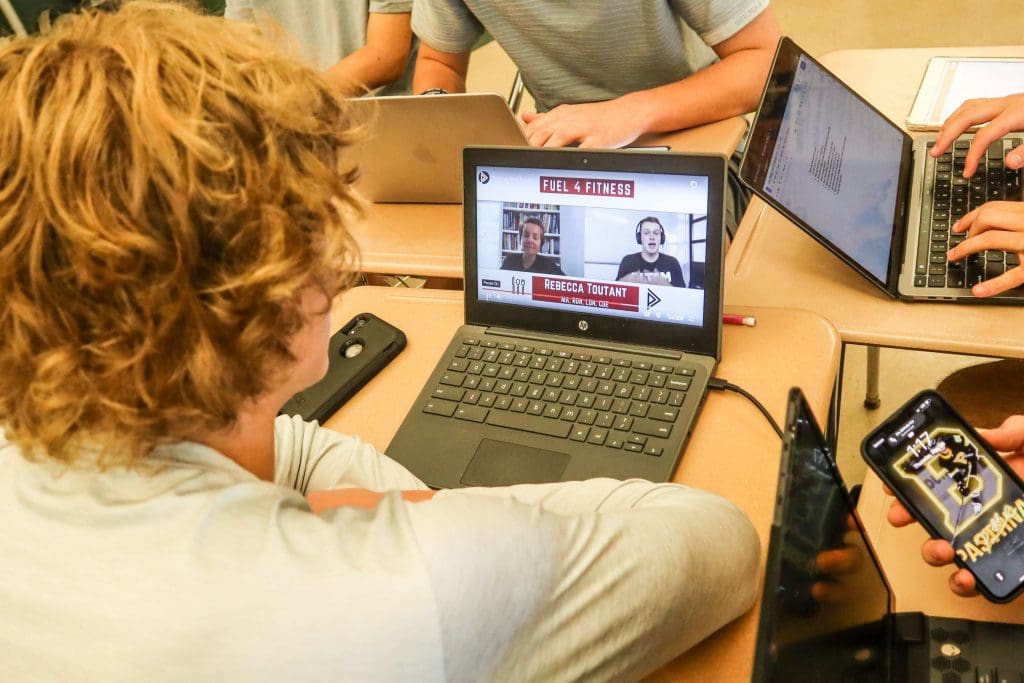 Key Takeaways on Calorie Needs
As you saw throughout this article, our focus is not on counting calories, but understanding our calorie needs in the context of energy. Calories are a form of energy, and will fuel our day and lives.
There are a myriad of factors that influence a person's energy needs. And more importantly, people will have different and unique energy needs. Therefore, strict calorie calculators can actually disrupt our ability to understand our overall health and calorie needs.
Again, if you are concerned about your calorie needs, especially within the context of weight loss or weight gain, we strongly urge people to consult with a trained professional. While it might be tempting to search online for a specific number of calories you need, there is a lot of nutrition misinformation that can do more harm than good.
FAQ
Does PLT4M have more information on nutrition for students?
Yes, PLT4M has a full curriculum of nutrition lesson plans. We break down key concepts like calories, carbohydrates, fats, proteins, and other nutrition topics. Each nutrition lesson comes fully loaded with a video presentation and written lesson from nutrition expert Rebecca Toutant.
Are schools required to teach nutrition education?
It depends on the school district and state requirements. But at PLT4M, we believe every student should get a proper nutrition education. The importance of nutrition education in schools lies in the opportunity to empower students to make sustainable, well informed food choices. Not just for while they are young people in a school environment, but so that they are equipped with the tools to succeed for the rest of their lives. 
In talking about nutrition we often label things as good or bad, right or wrong, but a robust nutrition education sets students up to navigate the real-world and all of the different nuances that come with fueling our bodies.