School districts spend time, energy, and money pursuing improved academic performance. Schools plan down to the minute how much time should be spent on math, ELA, science, and other core competencies.
But we often ignore the benefits of social-emotional learning (SEL) in the long-term pursuit of total child development. As schools measure what leads to better academic achievement, SEL is often a piece of the equation that gets entirely left out or considered an afterthought. 
Why is social and emotional learning important?
Social and emotional learning is important because students need to develop emotional intelligence the same way they do intellectual intelligence. Just like addition and subtraction are math skills (intellectual intelligence), things like relationship skills, self-awareness, and responsible decision making are social-emotional skills (emotional intelligence). 
In the past, we may have hoped that interpersonal skills and social awareness were things that students could just 'figure out.' However, research says that social-emotional learning programs can have a direct positive impact on student's overall mental health and academic performance. 
When it comes to addressing students' overall well-being, SEL lessons need to be part of the equation.
How does social emotional learning impact learning? 
Students perform better in school when they have the emotional competencies to navigate class and school.
At a high-level, classroom behavior improves when students have SEL skills. With social-emotional learning skills, students can have better problem-solving and conflict resolution skills. The simple ability for students to have positive relationships with their peers and teachers makes any learning easier. 
Taking a closer look at individual learning, with mindfulness and self-awareness comes a better opportunity for improved academic success. Through SEL skills, students can focus on goal setting and self-management, allowing for better focus and attention in class. 
There are endless social-emotional learning benefits for students from kindergarten through high school and beyond.
Benefits of Social Emotional Learning 
While social-emotional learning benefits are often positioned in the lens of improved academic performance, it should also be noted that the positive outcomes for emotional development reach far past the school and classroom. 
Benefits of social emotional learning include: 
Self-awareness
Self-management 
Social Awareness 
Relationship skills
Making responsible decisions 
These benefits of sel might look familiar to you! That is because they are pulled directly from the Collaborative for Academic, Social, and Emotional Learning (CASEL). CASEL actually uses these 5 benefits as their core competencies. On top of that, groups like Shape America have adopted them for their national physical education standards. 
Self-awareness – To recognize your emotions and how they impact your behavior; acknowledging your strengths and weaknesses to better gain confidence in your abilities.
Self-management – To take control and ownership of your thoughts, emotions, and actions in various situations, as well as setting and working toward goals. 
Social awareness – The ability to put yourself in the shoes of another person who may be from a different background or culture from the one you grew up with. To act with empathy and in an ethical manner within your home, school, and community. 
Relationship skills – The ability to build and maintain healthy relationships with people from a diverse range of backgrounds. This competency focuses on listening to and being able to communicate with others, peacefully resolving conflict, and knowing when to ask for or offer help.
Making responsible decisions – Choosing how to act or respond to a situation based on learned behaviors such as ethics, safety, weighing consequences and the well-being of others, as well as yourself.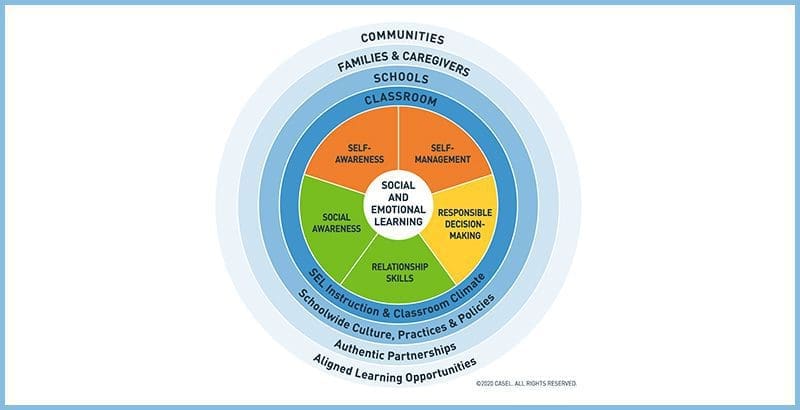 SEL Programs Leads to SEL Benefits 
There are countless ways that school districts can incorporate social-emotional learning into their year. Currently, many teachers have to find creative ways to integrate SEL skills into the school day. Often teachers will incorporate a SEL competency into a math, science, or other subject unit. 
And while we don't want to discredit or diminish the importance of any SEL you can add in throughout all curriculum, long-term advocacy for SEL programs at schools will lead to the biggest SEL benefits. 
This means moving past the one-off professional development days centered around SEL training, and a dedicated focus of curriculum and resources that provide SEL interventions. 
Just like we have time allotted for other subjects and units, so should social emotional learning become a staple of school district curriculums. 
Physical Education's Opportunity For SEL 
As schools consider ways to reap the benefits of social-emotional learning, they should look no further than physical education. Physical education has a national standard dedicated to the social and emotional well-being of students.

The Shape National Standard 4 states: The physically literate individual exhibits responsible personal and social behavior that respects self and others.
Much like many other subjects, physical education will often weave in this SEL standard through fitness, games, and other lessons. But, there are also many opportunities to directly address this social-emotional learning standard through dedicated lesson plans.
Team building units, mindfulness units, and other topics are great ways to add curriculum in that directly addresses student's mental health and social emotional well-being.
Key Takeaways On The Benefits Of Social Emotional Learning 
For years now we have acknowledged the benefits of SEL in schools. The results of a global pandemic further highlighted the need for a change in how we approach education. 
Social emotional learning is not a nice to have, it is a need to have. There are countless positive outcomes for students overall well being, mental health, and academic achievement. 
Shifting how we approach education will mean changing the mindsets of policymakers and administrators. But a further investment of resources towards teachers, curriculum, and social-emotional programs will have major long-term benefits to students of all ages.
FAQ
What is social-emotional learning? 
Social-emotional learning is a type of education that introduces different skills and competencies surrounding self-awareness, self-esteem, relationships, and more.
SEL is definitely a buzzword that you will hear thrown around, so even if you have made it through this full article and are still not sure about SEL, don't be frustrated! There are lots of great resources you can find as CASEL for even more information about SEL in schools.
What type of social-emotional learning programs are there for high school students? 
One of the most popular forms of SEL at the secondary level is mindfulness lesson plans for high school students. 
What is mindfulness you might ask? Mindfulness is paying attention to what's happening on purpose with kindness, curiosity, without judgment. Mindfulness lessons offer students a guided way to mediate and start to explore different SEL concepts. Mindfulness lessons are also directly linked to the CASEL standards that are discussed throughout this article.